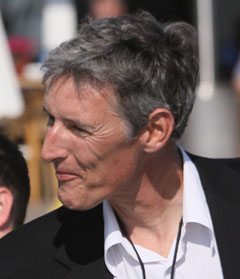 Lew Douglas has held officer and senior-level positions at tier-one domestic and international Wall Street firms. Over the course of his 20 years on the Street, he gained invaluable experience in roles ranging from institutional sales to being CEO and managing partner of leading Wall Street institutions. Lew began his career with AG Edwards and Sons as one of several key institutional sales persons dedicated to working the company's strategic accounts, including hedge and mutual firms.
Following AG Edwards, Lew was recruited by Donaldson Lufkin & Jenrette, renowned for its extraordinary quality research on technology-based companies. Lew focused on the firm's largest accounts. From DLJ, Lew joined industry leader Robertson Coleman & Stephens. In the role of senior institutional sales, Lew was instrumental in propelling RCS to one of the nation's largest emerging-growth firms, with a focus on technology IPOs. He was subsequently assigned the operational responsibility for the London office as Special Partner, in charge of supervising the activities surrounding the firm's key European accounts.
In 1989, Lew purchased Jensen Securities (now D.A. Davidson). He successfully transformed Jensen from a regional brokerage into a leading institutional research boutique. He maintained complete operational control of company activities, including trading, sales, and research. Lew was also directly responsible for all investment banking activity. At the time of his departure, Jensen was a recognized leader as the premier institutional research firm in the Pacific Northwest.
Following Jensen, Lew became the senior vice president for Arcadia Investments. With his two senior partners, Lew helped propel Arcadia to become the third-ranked firm in the nation for its research of toy and entertainment software companies. After Arcadia, Lew formed The Wilton Group (financial public relations) to help emerging-growth companies attract Wall Street research sponsorship. Wilton's clients represented some of the NYSE's best-performing micro-cap companies during 2001-2005.
In 2005, Lew decided to leave Wall Street to form Lewis Douglas Consulting.
Mid-2011, Lew created Urth Organic LLc/Urth Agriculture (www.urthagriculture.com). Urth Agriculture products dramatically increase photosynthetic growth while significantly decreasing predatory pests and water usage. Urth Agriculture is working with some of the largest non-organic and organic farmers, ranchers, nurseries, and wineries in California.
Lew is Special Advisor to Dr. Roger Payne of Ocean Alliance, a 501(c)3 organization, founded in 1971. Ocean Alliance collects a broad spectrum of data on whales and ocean life relating particularly to toxicology, behavior, bioacoustics, and genetics. From that data, it works with its scientific partners to advise educators and policymakers on wise stewardship of the oceans to reduce pollution, prevent the collapse of marine mammal populations, maintain human access to fish and other sea life, and benefit ocean and human health.
Lew is currently a board member of the Carmel International Film Festival (CIFF), Stanley Energy, and Exodus Film Group.
Lew's true passion is the sea. As he was growing up in California, his parents instilled in him their love for the water. An accomplished sailor and surfer, he has logged over 100,000 n.m. navigating the waters of French Polynesia, Central America, and the Pacific Northwest, including Alaska. Lew is committed to the fight for conservation, preservation, and protection of marine habitat.