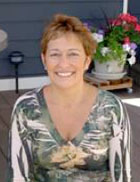 Lisa J. Downey has been part of Microsoft's Infrastructure Business Architecture strategy team as business architect and lead program manager supporting for Office Client and Infrastructure Optimization for field, customer, and partner communications, program management, cross-group orchestration of marketing and content development, partner development, and ROI Tools.
Lisa has more than 20 years' significant experience in software development, partner development, large-scale project management, software product management and publication, technology management and infrastructure development, and enterprise partner marketing and relationship management.
The last 10 years of her career and while at Microsoft, Lisa has been focused on WW sales and marketing helping to define and deliver sales strategy and enablement. Previously, she has been responsible for managing Microsoft's Worldwide Partner Conference and executive events and has driven development and delivery of a standard methodology for GTM/initiative, product launch management for global partner integration and marketing, and enterprise partner marketing content development and delivery.
Before joining Microsoft, Lisa was vice president of Product Development for a Y2K startup, was the corporate Y2K project manager for Nordstrom, was the product publisher for Wall Data's product line for data-terminal services products, and started her career as lead programmer for network topology for Boeing's Energy Management Systems division. She has had years of experience in software management, product development and management, large scale project management, and marketing.