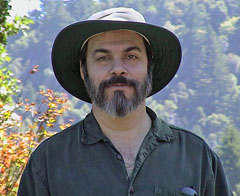 Robert Bornn is the founder of BuildingCircles Organization, designing awe-inspiring, affordable, nature-integrated communities that incorporate advanced universal design and home healthcare technology for independent living. Robert is an inventor, entrepreneur, and business mentor. During four decades, he has created more than a dozen health, quality of life, and energy inventions. He holds five medical device patents and has founded five R&D companies and two nonprofit scientific organizations.
While a student at Stuyvesant High School (NYC) in the '60s, Robert began designing "personal space environments." Later he created indoor and outdoor tensed fabric habitats for alternative living. Inspired by Buckminster Fuller's domes and Frei Otto's tensioned structures, his tensegrity designs included a room-sized fabric-and-acrylic biofeedback-controlled installation at the Museum of Contemporary Crafts (NYC) in 1969.
Robert's dedication to affordable and sustainable housing and energy solutions was intensified in the early 1970s. He purchased an island in Penobscot Bay, Maine, to establish an alternative residential community. Buckminster Fuller's retreat was on a neighboring island, and his encouragement inspired Robert to keep pushing the envelope. Robert created principles of design he termed psycho-architecture, which emphasized the importance of residential personal space in shaping individuals and maintaining relationships.
In the early '80s, Robert conducted sleep research at the Psychophysiology Lab at UCSF. He investigated cardiovascular concomitants of dreaming and developed innovative underwater electrophysiological recording techniques for flotation tank research. Over the next two decades, he created medical monitors and ergonomic devices. He licensed the NightWatch™ ambulatory sleep recording and assessment system for the adult sleep apnea market. The licensee sold $100 million of NightWatch product and was later acquired for $5 billion. Robert also invented the PatientWatch hospital patient monitor, SafeWatch ambulatory cardiorespiratory alert system, and LifeSense home personal monitor. In the late 1990s, he invented hands-free HiBrow and soft-touch Companion ergonomic input devices.
Currently Robert has refocused on alternative energy solutions and sustainable, affordable communities. Some related inventions include the Solar Harvester nature-integrated system for collection of solar thermal energy, WindZyggy micro-power generation system, and Mass=Energy vehicular energy recapture system.
After a half-century of various additional professional pursuits, from sculpture and environments to film and multimedia, Robert now also adds balance to his life, combining habitat innovation with transhumanist design (www.bornn.com).
*****
BuildingCircles Organization, founded in 2005, is developing affordable and sustainable world housing models incorporating advanced home healthcare technology for independent living. Its blueprint for awe-inspiring, living buildings points toward future net-positive energy and seismically stable residential communities. These open clusters of three to five homes per acre may be a viable alternative to suburban sprawl, exurban gentrification, and typical rural land use. Their relationship to the planet as nature-integrated living buildings will, as side benefits, offer stabilization of slopes, terraced gardens, and overall better utilization of marginal lands from the Cascades and Northern Boreal forests to the Sahels of the world.
Recent U.N. reports state a need to build 50 million houses a year just to keep up with world population growth. Additionally, ongoing large-scale disasters require millions more. This challenge also represents an economic and political opportunity to propagate sustainable land stewardship. By supporting fair distribution of water, food, and shelter, the resulting new communities will help create wider economic and social stability. This, in turn, will act as an indigenous counterweight to local and regional instabilities.