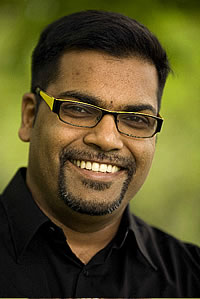 Hanson Hosein is the director of the Master of Communication in Digital Media at the University of Washington in Seattle (http://mcdm.washington.edu). He specializes in storytelling, social media strategies, and new models of communication. As president of HRH Media (http://hrhmedia.com) , he employed this expertise to direct the award-winning documentary films Rising from Ruins (http://risingfromruins.com) and Independent America: The Two-Lane Search for Mom & Pop (www.independentamerica.net), which have been broadcast around the world and widely distributed online via Hulu and Yahoo! (and later this year on Netflix and iTunes, as well as select PBS affiliate stations). Because of this work, Seattle Magazine named him "Most Influential" in fall 2010.
Hanson has presented to organizations and companies such as the Bill & Melinda Gates Foundation, Boston University, the Canadian Broadcasting Corp., and the Public Relations Society of America on media strategy. He has also won Emmy and Overseas Press Club awards for his work as a television journalist with NBC News. He was embedded with the U.S. military in Iraq and covered the impact of the war throughout the Middle East, armed only with a laptop, satellite phone, and camcorder.
Hanson has a master's degree in Journalism from Columbia University, and law degrees from Montreal's McGill University and the University of Paris. In April 2010, Hanson hosted the enormously successful TEDx Seattle; he's presently occupied with planning a follow-up multi-day event to this for 2011, along with building a hub and business incubator for the Pacific Northwest's content technology community. He's also writing a book on storytelling in the digital age (www.trustmebook.wordpress.com).
Hanson serves on the board of directors of the Pacific Science Center, and is on the advisory boards of The Common Language Project, UWTV, and Puget Sound Off. He's an affiliate member of the Jackson School's Middle East Center, as well as the Evans School of Public Affairs. This fall, Hanson hosts Media Space (http://uwtv.org/mediaspace) - a monthly UWTV series that features interviews with leading media and technology visionaries.