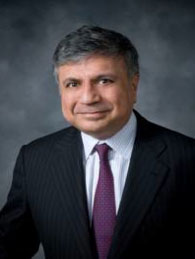 Narendra Mulani is the managing director for Accenture Analytics and Marketing Services. In this role, he is responsible for driving Accenture's strategic agenda for growth across digital and traditional marketing, sales and customer service, and business analytics. He leads an integrated community of over 15,000 management consulting, technology, and outsourcing people who are serving clients across industries around the globe. Following his passion to stay close to the voice of our customers, Narendra is also responsible for Accenture's global relationship with Procter & Gamble.
Narendra has held a series of leadership roles within Accenture since joining in 1997. Most recently, he was the managing director of Products North America, where he was responsible for creating value for Accenture's clients across a variety of industries in North America, including Retail; Consumer Goods and Services; Life Sciences; and Automotive, Industrial, Infrastructure, Travel. He was previously managing director of Supply Chain, Accenture Management Consulting. In this role, he led a global practice responsible for defining and implementing supply-chain capabilities at a diverse set of Fortune 500 clients.
Additionally, Narendra held a senior leadership position as an architect of Accenture's "High Performance" business framework. This framework defines the core set of capabilities clients need to create sustainable growth and value for their customers and shareholders, and is the lynchpin of Accenture's business strategy. Narendra, and the team of six senior executives, was awarded a patent for the High Performance analytic and process framework.
Narendra graduated from Bombay University in 1978 with a Bachelor of Commerce degree. He received his MBA in Finance in 1982 and a Ph.D. in multivariate Statistics in 1985, both from the University of Massachusetts. Prior to joining Accenture, Narendra ran his own consulting company.
Narendra is a member of Accenture's Global Leadership team. Outside of work, he is involved with various activities that support education and the arts. He currently serves on the corporate board of the Lincoln Center in New York. On a more personal note, Narendra lives in New York with his wife, Nita, and two children, Ravi and Nikhil.