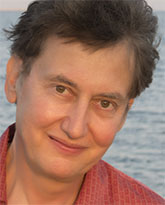 Roger Ressmeyer is the founder, executive director, and visionary behind the Visions of Tomorrow Foundation. He's also producer and interviewer for the foundation's television miniseries and transmedia project, now in final development. He's led scientific research into solutions for the world's biggest problems. Visions of Tomorrow will soon be filmed in a co-production agreement with the Emmy Award-winning documentary company Show of Force.
Roger is also a world-renowned photographer, filmmaker, writer, speaker, and entrepreneur. His acclaimed collection of over 500,000 images taken while on assignment for National Geographic, Time, the New York Times, and other publications, including Rolling Stone, became the first major acquisition by Bill Gates' Corbis digital media archive.
Roger's expertise ranges from science stories on the cutting edge of global research to space exploration, volcanoes, and clean energy sources. He's had highly privileged access to NASA and research labs around the world and has also served as VP of Strategy & Corporate Development for Getty Images and as CEO of Science Faction Images, where he represented dozens of the world's leading science photographers.
Roger lives and works in the Seattle area and is a graduate of Yale.