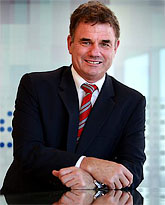 Paul Broad was appointed as a non-executive director of iiNet in June 2006, and appointed to the company's Remuneration & Nomination Committee in January 2007.
Paul was appointed chief executive officer of one of Australia's largest telecommunications companies, AAPT, in May 2007. He assumed this key position after Telecom New Zealand acquired 100% of PowerTel in January 2007. He had been managing director of PowerTel since November 2004 and was the former managing director of Energy Australia from 1997 to 2004. Prior to this, from 1993 to 1997, Paul was managing director of Sydney Water, where he introduced significant cultural and commercial change, leading to its corporatisation in 1995. Paul had previously implemented similar reform during his tenure as managing director of the Hunter Water Corp.
Paul is currently chairman of the board of the Hunter Development Corp., a non-executive director of KUTh Energy Ltd and iiNet Ltd, and a director of Community Telco Australia.