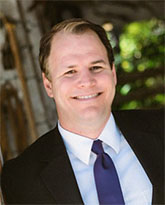 Eric Bolt is an attorney at law, admitted to practice in California. He is currently a corporate counselor. Previously, he was a legal intern with the City of San Diego's interim mayor, Todd Gloria. There, he worked on matters relating to the city's Climate Action Plan, which comprehensively addresses major environmental factors such as energy and water conservation, local clean-energy generation, waste reduction, and Property Assessed Clean Energy (PACE) financing.
Eric's other legal experience includes being a mediator at the San Diego County Superior Court, Chula Vista; an internship with United States Representative Scott Peters, 52nd District; legal publication research and writing; and working in Technical Services at a law library.
Eric has a BA from the University of California at Irvine and a JD from Thomas Jefferson School of Law; he studied law at Zhejiang University in Hangzhou, China.