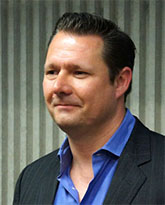 As CEO of Hyperloop Transportation Technologies Inc., Dirk Ahlborn handles the overall direction and administrative details of the whole project.
Hyperloop is a conceptual high-speed transportation system put forward by Elon Musk, incorporating reduced-pressure tubes in which pressurized capsules ride on an air cushions. Hyperloop will revolutionize how transportation is used for future travel to and from major cities, similar to the way the Concorde intended to change air travel. The tube could someday transport passengers from Los Angeles to San Francisco in 30 minutes at a top speed of 1,200 km/h; or from Vienna to the other end of Austria in 30 minutes, as Futurezone writes.
The first crowdsourced 7 km long track will be built in 2016 in Quay Valley, California, a town that calls itself the "100% solar powered, self-sustaining residential model town for the 21st century." About 200 people, from scientists to students, are currently working on this project in exchange for equity in the transportation company that will eventually emerge.
Dirk also co-founded JumpStartFund Inc. in 2002 and served as its CEO and president. He is a serial entrepreneur with experience in almost every element of business, including management, product design, and development and manufacturing; production facility design and setup; production cost control; marketing; product distribution; customer service; and sales.