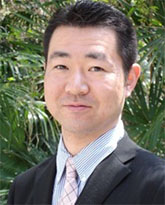 Akihiro Nakao is a professor in the University of Tokyo's Applied Computer Science course, Interfaculty Initiative in Information Studies, Graduate School of Interdisciplinary Information Studies.
Aki has been teaching at the university since 2005, leading the research group at Nakao Research Laboratory, pursuing networked systems. His main study areas include, but are not limited to: SDN, NFV, network virtualization, in-network processing for smartphones, wearables, and cloud interactions.
Aki received his Ph.D. in Computer Science from Princeton University.