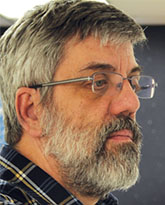 Tim Reynolds is the chief technology officer of CertainSafe. Previously at Guardian Payments, he was vice president of development and principal architect under David Schoenberger.
Tim has 30+ years of experience in information processing, with an extensive background in client server business-oriented applications. During the 1970s, he started his career with Lincoln National Life Insurance as a programmer. He later moved on to the Distributed Processing team, writing new and innovative systems. In the early 1980s, Tim headed a team to maintain systems for a division of Federated Department Stores. Then in the late 1980s, he was the lead architect for a new portfolio analysis and trading system, designing the entire communications architecture, as well as heading up the implementation team
In the early 1990s, Tim was the main systems engineer for Software Artistry, where he developed its Call Center Management software. He went on to manage the company's Quality Assurance team. As Tim led and managed five separate development teams, he was promoted to director of the entire application development team of engineers, testers, documentation, and the Level-3 support group for the firm's entire range of products. IBM purchased and then sold this division to Peregrine Systems, where Tim was awarded responsibility for all aspects of its large development lab operations.
In the early 2000s, Tim joined Focus on the Family and was responsible for all of the software and network components in its mail handling, customer database, and account reconciliation systems. He continued on to CodeOne LLC. There, Tim developed systems from the ground up, which included remote capture and imaging of documents, secure (HIPAA-compliant) document transmission, auto coding of invoices, and electronic distribution. He designed, wrote, supported, and enhanced over 20 different modules that worked in conjunction with one another.
Tim attended Fort Wayne Bible College (Taylor University, 1971-1974), went on to attend Indiana / Purdue University for Computer Science and Business Management (1978-1982), and attained an ICCP / CP designation in 1986.