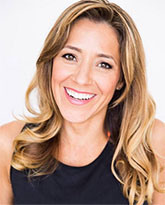 As a Mindset Effectiveness expert, a TEDx speaker, an award-winning producer, an author, and an international and high-performance results coach, Pina De Rosa has been designing and delivering engaging keynotes for businesses and schools for over 14 years. She has been nominated for the Los Angeles Business Journal's "Woman Making a Difference" seven years in a row (2010- 2016). She speaks five languages (English, French, Italian, Spanish, and German), and holds four passports.
Pina is the president of www.GratitudeInternational.com. Through her book Fit from the Inside Out and www.CollegeSpeakingWithPina.com, her commitment is to empower students and end date-rape on campus.
Pina's passion project is www.BroadwaySniffsOutCancer.com, and she is honored to serve on the board for www.TheNewHollywood.org.
Having been a coach for over a decade now, Pina works with a variety of modalities to best suit the needs of her clients. She is accredited in, or has a background as, a master results coach, performance consultant, master practitioner and trainer of NLP, leadership master coach, and Advanced Neurological Repatterning™. Pina holds a BA cum laude in Theatre with a minor in Psychology.