SNS Events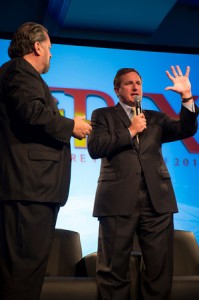 First held in 2003, and immediately called "the best technology conference in the world" by the Economist, the annual Future in Review™ Conferences are exceptional in their breadth and depth. Speakers and participants are global, and often share roles, with a bias favoring action. FiRe is covered by alliance partner BBC World News, with its 40MM audience, and other global press.
FiRe includes the well-known "FiRe CTO Design Challenge," a multi-day effort by selected CTOs, geared toward solving large-scale real-world problems. Results of the first year of these efforts are now being applied in fighting urban wildfires in San Diego County, Austin, and Australia.
FiReGlobal Conferences
These events offer regional attendees a focus on their own problem sets, addressed by global thought leaders: "Local problems with global solutions."
SNS Dinners
Business leaders and policymakers gather in carefully chosen settings, including the SNS West Coast Dinner, held in the Bay Area.

The SNS Annual New York Dinner
Held annually since 2005, this event includes a separate reception and dinner, followed by an interview with a global leader on a topic of current SNS interest, followed by an open Q&A session. This evening is attended by global news organizations, including the BBC World News, the Wall Street Journal, the New York Times, Forbes, and others.