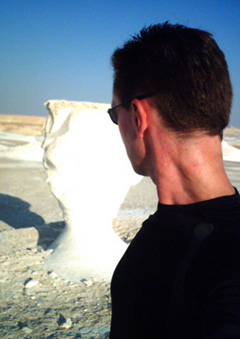 Chris Worth, director of Redpump Ltd., is an outsourced marketing director for SMEs in the UK and EU. That involves stringing ideas and words together - marketing plans, CRM programs, and information architecture - for management consultancies, ad agencies, and investment banks and their clients, chasing down an ROI averaging 4x-12x for each.
A school dropout at 16, Chris learned this stuff in a decade in Asia and Europe, working mainly for a top-10 ad agency on accounts including IBM, Unilever, and France Telecom, with New York's One Club (advertising's top awards scheme) describing him as "one of the world's top 100 copywriters." He also penned an SNS Special Letter in 2003 and that SNS Quiz, , where the answer is NOT always (d), still online at http://redpump.com/book/random/sns_quiz/sns_quiz.html. (Even Mark didn't quite max it out.)
Outside work, Chris is a keen triathlete. (What's more fun than a 1500m swim, 40km cycle, and 10km run at 6am on a wet Sunday?) Other interests include the EU, computers and Internet technology, world literature, opera, architecture, Asian culture, theoretical physics, and molecular biology. For some reason, he's also got a thing about deserts.
Today, after five years as a lone wolf with a day rate, Chris is looking for a role that'd put him back in a team.