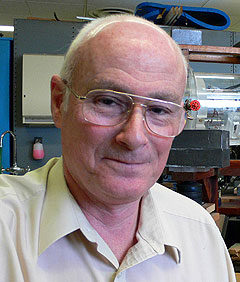 Jim Woodward earned bachelorís and masterís degrees in Physics at Middlebury College and New York University (respectively) in the 1960s. From his undergraduate days, his chief interest was in gravitation, a field then not very popular. So for his Ph.D., he changed to the History of Science, writing a dissertation on the history of attempts to deal with the problem of "action-at-a-distance" in gravity theory from the 17th to the early 20th centuries (Ph.D., University of Denver, 1972).
On completion of his graduate studies, Jim took a teaching job in the History of Science at California State University Fullerton (CSUF), where he has been ever since. Shortly after his arrival at CSUF, he established friendships with colleagues in the Physics Department who helped him set up a small-scale, table-top experimental research program doing offbeat experiments related to gravitation ñ experiments that continue to this day. In 1980, the faculty of the Physics Department elected Jim to an adjunct professorship in the department in recognition of his ongoing research.
In 1989, the detection of an arithmetic error in a calculation done a decade earlier led to Jimís realization that an effect he had been exploring proceeded from standard gravity theory (general relativity), as long as one were willing to admit the correctness of something called "Machís principle" ñ the proposition enunciated by Mach and Einstein that the inertial properties of matter should proceed from the gravitational interaction of local bodies with the (chiefly distant) bulk of the matter in the universe. Since that time, Jimís research efforts have been devoted to exploring "Mach effects," trying to manipulate them so that practical effects can be produced. He has secured several patents on the methods involved. This continues to be his area of research interest.
Over the years, Jim has published many scholarly articles in peer-reviewed professional literature. (The more recent of his publications can be found on his Physics Department webpage at CSUF: http://chaos.fullerton.edu/Woodward.html. For the past several years, he has been a member of the organizing committee for the Symposium on New Frontiers and Advanced Concepts, a part of the Space Technology Applications International Forum held each February in New Mexico.