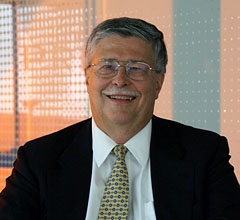 Bob Anderson is a retired vice president of marketing for UOP LLC, the world's largest source of licensed technology to the global oil-refining and petrochemicals industry. Prior to that, he was vice president of quality and productivity. During 37 years at UOP, he received 28 US patents, earned a master's degree in Management at Northwestern University, and served as managing director of subsidiaries in Belgium, Italy, and the Netherlands. He is president of Robert F. Anderson and Assoc. Inc.
Bob joined his alma mater, Illinois Institute of Technology (BSChE, 1962), in 2000 to start a technology-transfer and intellectual-property office. He worked with faculty and students as an entrepreneurship mentor while serving as investor, officer, director, or consultant to startups in areas including thermal management of large lithium-ion batteries, solar energy, hybrid and plug-in hybrid conversion of vehicles from SUVs to school buses and city buses, and digital motor drives. He retired for a second time in 2014.
Bob has taught at Illinois Tech since 2000 courses in environmental management, interprofessional projects, creativity, project management, presentation skills, ethics, brainstorming, and entrepreneurship and intellectual property, as well as a globally distributed course entitled Energy, Environment, and Economics (E3).