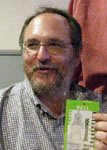 Dave Winer is the editor of Scripting News, the longest-running weblog currently on the Internet, which he started in 1997. The previous year, he created the "24 Hours of Democracy" project,"an experiment in collaborative free speech in response to the Communication Decency Act," which included his first weblog. He had previously started DaveNet, a first-of-its-kind personally published column read by the leading thinkers in software, networking, and tech finance.
In 2001, Dave earned the title "Tech Renegade," Wired magazineís top award, for his work with Microsoft on SOAP; he was named Top Technology Innovator by InfoWorld in 2002. Dave is the creator of numerous major software products and Web services, including Radio UserLand, Weblogs.com, My.UserLand.com (the first RSS-based news aggregator), Web content management system Manila, and the Frontier scripting environment.
Between 1998 and 2002, Dave was the sole author of RSS 2.0, RSS 0.92, and OPML 1.0, and the co-author of SOAP 1.1 (with Microsoft and IBM), RSS 0.91 (with Netscape), and XML-RPC (with Microsoft).
In 2003, Dave was a Fellow at the Berkman Center for Internet & Society, Harvard Law School. Previous employment includes being the founder and CEO of UserLand Software Inc. (1998-2002), a Wired contributing editor (1994-1996), founder and CEO of Living Videotext Inc. (acquired by Symantec in 1987), and lead developer at Personal Software Inc.
Dave graduated from the Bronx High School of Science. He holds a BA in Mathematics from Tulane University and an MS in Computer Science from the University of Wisconsin.