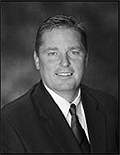 As vice president of Sales for the Public Sector and Systems Integrators, Shane Eliason is an integral part of the rapid growth of Altiris, now part of Symantec. At Altiris, he has grown revenues in multiple markets as his area of responsibility has grown from $10 million to over $135 million. He has been responsible for the West, the East, the Americas, and now Public Sector and Systems Integrators.
Shane comes to Altiris with over 20 years of experience in sales and sales management for companies such as IBM, Simon and Schuster, and Peregrine, as well as three startup companies. He has wide expertise in creating and implementing programs to increase revenues for complex software applications. He has implemented effective strategies for upgrading sales organizations' personnel and developing team members to achieve long-term sustainable revenue growth.
Shane has successfully sold to large enterprise accounts such as Boeing, United Airlines, SunTrust, Honeywell, Wells Fargo, and Intel, demonstrating his ability to influence opinion leaders such as the CIO and CFO. He has a BS in Finance with an emphasis on technology from Brigham Young University.