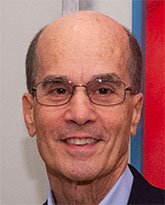 Jim Wolbarsht has held CEO, CFO, CIO, and board positions in both million- and billion-dollar firms. He is Sarbanes-Oxley- and SEC-qualified as an Audit Committee Financial Expert, has a strong technical background in finance and information technology (including big data, cyber security, and digital media), and is highly experienced in risk management.
Since 1983, as president at DEFCON® Inc., Jim has generated over $100 million of revenues for clients, serving as a technology advisor and creating several successful international joint ventures. From 2003 to 2006, he chaired Strategy for the $1.5 billion federal business at BearingPoint, served as Engagement managing director for information technology planning at the White House, and developed the first national technology strategy for the post-war Government of Iraq.
In the early 1990s, Jim was the top financial, technology, and investment executive at the Pension Benefit Guaranty Corp. (PBGC), a self-financing business which insured 67,000 defined benefit pension plans for 41 million Americans. He managed annual revenues of $1 billion, and investments under his direct control exceeded $6 billion (a "Top 50" pension fund at the time). According to the Washington Times, he was responsible for "turning the once-troubled (company) around."
Pro bono, Jim has been a member of the Naval Research Advisory Committee (the US Navy and Marine Corps' senior scientific advisory board), the Director's External Review Team at the US National Security Agency (NSA), and the Defense Secretary's Missile Defense Advisory Committee (MDAC), and chair of the Advisory Group for the House Permanent Select Committee on Intelligence (HPSCI).
The Washington Post, the Baltimore Sun, FORTUNE, and the National Journal have all quoted him as a technology and management expert. He is a member of the advisory board for the SNS INVNT/IP (Inventing Nations vs. Nation-sponsored Theft of Intellectual Property) Global Consortium.
Jim holds an AB from Harvard College and an MBA from the Harvard Business School and served to the rank of Lieutenant in the United States Navy. He is a member of the board of directors at Cobham Defense Systems Inc. and of the executive committee of the Military Order of the Carabao, and chairs the steering committee for the Defense industry's FOCI (Foreign Ownership, Control and Influence) Working Group.