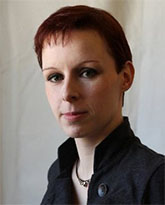 Kathryn Williams heads up Operations at uBiome, a startup that uses big data and citizen science to understand the human microbiome.
Kathryn ran her first company at the age of 15, when her startup won the top award in a national, year-long startup event. While studying for her bachelor's degree in English, Kathryn earned a scholarship to extend her studies to the University of California, Berkeley. From there, she attended the University of London, Royal Holloway, where she received a master's in Film and Television Production.
Translating what she learned from a career running film production companies in London, she is passionate about operational efficiencies in startups. She strives to enable a workforce of smart, efficient, and productive people â€" who fundamentally love what they do.
Prior to joining uBiome, Kathryn worked as director of People Operations at remote assistant powerhouse Zirtual. At Zirtual, Kathryn built and ran the Zirtual Assistant Training, Client Happiness, and Community Manager teams for the rapidly growing startup.