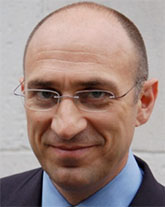 Ken Zita specializes in opportunity definition at the intersection of technology innovation, investment and policy. He has been engaged with digital services projects in over 50 countries worldwide, both in advanced application environments and in 35 emerging markets. Ken is widely regarded as a visionary on the strategic application of information services in support of business transformation, national economic development, and resolution of complex social challenges.
As a pioneer in China's economic awakening, Ken led business development for China at AT&T and wrote a book on China's information apparatus for The Economist. He led broadband Internet service strategy for a major European cable operator and co-founded an enterprise-managed services venture with $33m Series A investment.
Following 9/11, Ken served as principal telecom policy advisor to Afghanistan, where he defined the blueprint for the nation's postwar information infrastructure. He specified Congressional assistance establishing national emergency command centers and community notification systems for the countries impacted by the Asian tsunami, and advised the 26-nation "Pacific Endeavor" exercise focusing on military-civilian collaboration during natural disasters.
Ken has designed marquee public-sector programs in Palestine; cybersecurity interventions in Libya; banking systems in Africa; ICT sector strategies in Central Asia; and advanced network applications in Singapore, Korea, and Japan, among many engagements. He is an advocate for "State-Building in the Digital Era" and advises the World Bank on its "Smart Nation" initiative. He is past conference chairman at the Pacific Telecommunications Council, was an analyst at Meta Group, and has spoken at many leading think tanks and industry forums. Ken is president of Network Dynamics Associates and serves as senior strategy advisor to CertainSafe.