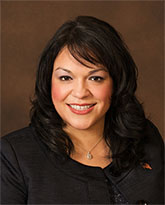 Senator Luz Escamilla holds a Bachelor of Science degree in Business Marketing and a master's degree in Public Administration from the University of Utah.
On November 4, 2008, Luz was elected to the Utah State Senate representing Senate District 1, becoming the first Latina elected in the Utah State Senate and the first immigrant elected in the Utah State Legislature. She is serving her third term in the Utah State Senate after being reelected in 2012 and 2016. Senator Escamilla serves in the senate leadership team as the Senate Assistant Minority Whip.
In 2005, Luz was appointed by Governor Jon Huntsman as the first director for the State Office of Ethnic Affairs. In this position, she oversaw the directors of Asian, Black, Hispanic / Latino and Pacific Islander Affairs. She currently works as vice president for Zions Bank in the Community Development Group representing Zions Bank in community and business relationships across the states of Utah and Idaho. At Zions Bank, she has worked as director for the Business Resource Center, as well as the Hispanic / Latino market manager.
Luz has served in many capacities in different boards of nonprofit organizations and other agencies. She currently serves on the boards of the Girls Scouts of Utah, Guadalupe Schools, and Primary Children's Hospital, as well as the Women in the Economy Commission.
Senator Escamilla has been honored with different recognitions including:
Mexican Government SRE - Ohtli Award 2017
Harvard Business School - Member of the Young American Leaders Program 2017
Utah Business Magazine - 2017 Forty Under 40 Award
Utah After School Network - 2016 Utah After School Legislative Advocate
International Interior Design Association (IIDA) - 2016 Legislator of the Year Award
Boys Scouts of America - 2015 Vale la Pena Service Award
Utah Health Care Association - 2015 Legislative Champion of the Year
Enlisted Association of the National Guard Utah - 2013 Legislator of the Year Award
LULAC - 2013 National Legislator Service Award
The University of Utah Alumni Association - 2011 Par Excellence Award
Deseret News - 10 Who Made a Difference in 2010
Salt Lake Chamber of Commerce - Pathfinder Recipient 2010
US Small Business Administration - Minority Small Business Champion of the Year 2010