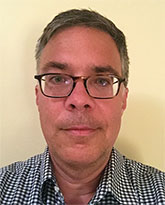 Ken Anderson is currently a senior IT project manager at Multnomah County, Oregon, where he focuses on implementing innovative technologies that help deliver government services with greater efficiency and effectiveness. In the next year, he will be transitioning into a new role at the county as program manager for Enterprise Data and Analytics. He has worked in IT for over 20 years and has held a variety of positions in consulting and industry, including Director of HR, Payroll and Real Estate Systems for Charles Schwab, and Director of Worldwide HR Systems for Levi Strauss. He has done consulting and contracting jobs everywhere from Appleton, Wisconsin to Paris, France. 
He holds a BA in Economics from Swarthmore College and an MSW from the Hunter College School of Social Work of the City University of New York. Shortly after moving to Portland, Oregon, in 2004, he returned to school to earn an MS in Computer Science from Oregon Health and Sciences University, where he focused on speech recognition and natural language processing and conducted research into the application of natural language processing and machine learning techniques to automating the scoring of a neuropsychological test for diagnosing ADHD and dementia.
Ken is an amateur artist and musician and enjoys singing, playing the piano, drawing and watercolor painting. Until recently, he was a member of an a cappella group called the Stumptown Seven. He also enjoys traveling abroad and exploring the Pacific Northwest with his husband, Neff Breen.