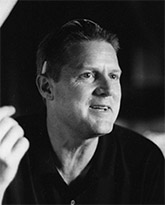 Lyle Turner graduated from the University of California - San Diego in 1982 with a BA degree in Chemistry with a focus on Biochemistry and Molecular Biology. He worked in business development at Syntro Corp., a startup biotech company, as vice president of Business Development for four years before founding Invitrogen. Lyle was the president, CEO, and chairman of the board from 1987 until 2003. The company went public on the Nasdaq in 1999 and utilized its stock to roll up several companies in the molecular biology research supply field to become the world's leader in gene cloning and expression systems.
Invitrogen became Life Technologies after acquiring Applied Biosystems Inc. (ABI, the world's leader in DNA sequencing). Life Technologies was sold to Fisher Scientific in 2013 for $13.6 billion.
Lyle is a commercial pilot, ship's captain, avid scuba diver, underwater photographer, and founder of the Global Reef Project, a foundation supporting coral-reef restoration and preservation.
He lives with his wife and son in Santa Barbara, California, and Whistler, British Columbia, Canada.