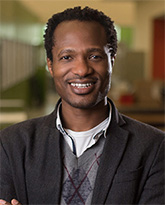 Osh. Agabi has more than 17 years' experience working on neuroelectronic interfaces in the industry and academia. He was a robotics engineer (theoretical physics) straight out of college, doing statistical learning from 2002 to 2005. He built and programmed pick & place robots in Zurich, Switzerland.
Osh. led a cross-disciplinary industry / academia team to develop an in vitro reflex arc for modeling implantable neural chips at the ETH in Zurich, reporting to the CEO and board of directors. That company was acquired.
As a visiting scholar at MRC (the London Institute of Medical Sciences, Hammersmith) and during his PhD studies at the Imperial College in London, Osh. built and customized two-photon microscopes for studying synaptic transmission in the mouse visual cortex.
Osh. speaks five languages and has lived in six countries across three continents.