Yi Cui
Assistant Professor, Department of Materials Science and Engineering, Stanford University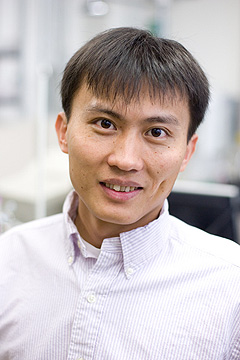 Yi Cui went to the University of Science and Technology of China, where he received a bachelor's degree in Chemistry in 1998. He attended graduate school from 1998 to 2002 at Harvard University, where he worked under the supervision of Professor Charles M. Lieber. His Ph.D. thesis concerned semiconductor nanowires for nanotechnology, including synthesis, nanoelectronics, and nanosensor applications.
After that, Yi went on to work as a Miller Postdoctoral Fellow with Professor Paul Alivisatos at the University of California-Berkeley and Ernest Orlando Lawrence Berkeley National Laboratory. His postdoctoral work was mainly on electronics and assembly using colloidal nanocrystals.
Yi is now an assistant professor in the Department of Materials Science and Engineering at Stanford University. His current research is focused on nanomaterials synthesis, electronic properties, solar cells, batteries,, memory, and sensor devices. He has received the MDV Innovators Award (2007), the Terman Fellowship (2005), the Technology Review World Top Young Innovator Award (2004), the Miller Research Fellowship (2003), the Distinguished Graduate Student Award in Nanotechnology from the Foresight Institute (2002), and the Gold Medal Graduate Student Award from the Material Research Society (2001).