Veerabhadran Ramanathan
Distinguished Professor of Climate Sciences and Director, Center for Clouds, Chemistry & Climate (C4), Scripps Institution of Oceanography, UCSD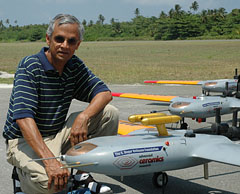 Dr. V. ("Ram") Ramanathan is the Distinguished Professor of Climate Sciences at the Scripps Institution of Oceanography, University of California-San Diego. In the mid 1970s, Ram discovered the greenhouse effect of CFCs and numerous other manmade gases. He correctly forecasted in 1980, along with R. Madden, that the global warming due to carbon dioxide would be detectable by the year 2000. He led a NASA study that used satellite radiometers to detect the atmospheric greenhouse effect, including its increase with temperature, and found that clouds had a large natural cooling effect on the planet.
Ram, along with Dr. Paul Crutzen, led the Indian Ocean Experiment that discovered the widespread South Asian Atmospheric Brown Clouds (ABCs). He further showed that the ABCs led to large-scale dimming of the ocean, which decreased monsoon rainfall. He followed this with a path-breaking study with agricultural economists to show that ABCs and greenhouse gases led to a 14% decrease in rice harvest in India.
In 2006, Ram led a team which developed miniaturized instruments and lightweight unmanned aerial vehicles (UAVs) to show that black carbon in ABCs are causing a large heating of the atmosphere over Asia, linking ABCs to the melting of Himalayan and Tibetan glaciers. These UAVs were also used to track pollution from Beijing during the 2008 Olympics.
Ram's most recent publication suggests that manmade greenhouse gases have likely committed the planet to exceed the threshold for several climate tipping points. He is now developing practical solutions to the climate change problem. The first is Project Surya, which is deploying energy-efficient stoves in rural India to help reduce emission of black carbon and ozone: major warming agents. His vision is that the success of Surya will persuade governments around the world to do the same and transform the lives of over 3 billion people who depend on firewood, cow dung, and crop residues for cooking.
Ram chairs the UNEP-sponsored ABC Project. He also chaired the National Academy of Sciences report in 2009, which called for a major restructuring of the U.S. climate-change science program. He is the recipient of numerous awards, including the American Meteorological Society's Rossby medal, the Royal Dutch Academy's Buys Ballot medal, the Volvo environment prize, and the Zayed International prize for Environment. He is also co-recipient of the 2009 Tyler prize for Environment, considered to be the top environment prize in America.
Since its inception, Ram has been a member of the Intergovernmental Panel on Climate Change, which won the Nobel Peace Prize in 2007. He has been elected to the American Philosophical Society, the US National Academy of Sciences, the Pontifical Academy of Sciences by Pope John Paul II, and the Royal Swedish Academy of Sciences.