Hank Louis
Founder and Director, DesignBuildBLUFF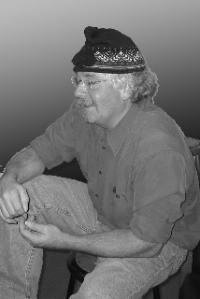 Hank Louis is the founder and philosophical leader of DesignBuildBLUFF, across the San Juan River from the vast Navajo Nation in Bluff, Utah.
After graduating from the University of Southern California with an AB in Humanities in 1975, Hank worked as a writer and journalist. Intrigued by the process of designing and building his own home in the jungle of Costa Rica, Hank enrolled non-matriculated at the University of Utah in order to tackle prerequisites, achieving an M.Arch. and the Certificate of Merit from the Henry Adams Fund of the American Institute of Architects for Excellence in the Study of Architecture in 1987.
Hank has been principal of 15.15 Architects and Form Fifteen. He was a biennial visiting studio critic at the University of Utah until founding a supporting nonprofit organization in 2000, the DesignBuildBluff program, which teaches graduate students of architecture design/build, empathetic, team, and sustainability, among other skills He currently leads the efforts at gigaplex inc., an award-winning firm based in Park City, Utah.