Louie Psihoyos
Director, Racing Extinction; Oscar winner, The Cove; and Executive Director, Oceanic Preservation Society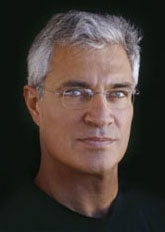 Louie Psihoyos, executive director of the Oceanic Preservation Society (OPS), is recognized as one of the top photographers in the world. He was hired directly out of college to shoot for National Geographic and created images for the yellow-bordered magazine for 18 years. His ability to bring humanity and wit to complicated science stories carries over to his filmmaking. An ardent diver and dive photographer, he feels compelled to show the world the decline of our planet's crucial resource, the oceans.
Louie's first documentary film, The Cove, won the Academy Award for Best Documentary Film of 2009 and over 75 other awards around the world. The film garnered immense critical praise and has been seen by millions of viewers worldwide.
Louie's next film, Racing Extinction, follows a team of artists and activists as they expose the hidden world of extinction with never-before-seen images that will change the way we see the world.