Jamie Bernstein
Writer, Narrator, Broadcaster and Filmmaker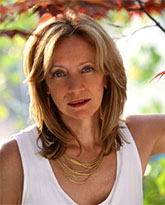 Jamie Bernstein is a writer, narrator, broadcaster, and filmmaker who has transformed a lifetime of loving music into a career of sharing her knowledge and excitement with others.
Inspired by her father Leonard Bernstein's lifelong compulsion to share and teach, Jamie has devised multiple ways of communicating her own excitement about classical music. Beginning 15 years ago with "The Bernstein Beat," a family concert about her father's music modeled after his own groundbreaking Young People's Concerts, Jamie has gone on to design, write, and narrate concerts for worldwide audiences of all ages about the music of Mozart, Copland, Stravinsky, and many others. Jamie creates and narrates two educational concerts a year with the New World Symphony in Miami; these "Discovery Concerts" are specially designed to attract audiences of all ages who are less familiar with concertgoing.
Jamie travels the world as a concert narrator, appearing everywhere from Beijing to Caracas to Vancouver. A frequent speaker on musical topics, Jamie has presented talks around the world, from conferences in Japan to seminars at Harvard University.
In her role as a broadcaster, Jamie has produced and hosted shows for radio stations in the United States and Great Britain. She has presented the New York Philharmonic's live national radio broadcasts, as well as live broadcasts from Tanglewood.
Jamie is the co-director of a film documentary, Crescendo: the Power of Music, which focuses on children in struggling urban communities who participate in youth orchestra programs for social transformation, inspired by Venezuela's groundbreaking El Sistema movement. The film has already won numerous prizes as it travels the festival circuit, and will soon be released on Netflix. More about the film can be found at crescendofilmdoc.com.
Jamie has also directed her father's chamber opera, Trouble in Tahiti, at the Moab Music Festival and at the Festival del Sole in Napa, California.
In addition to writing her own scripts and narrations, Jamie writes articles and poetry, which have appeared in such publications as Symphony, DoubleTake, Opera News, and Musical America. She also edits "Prelude, Fugue & Riffs," a newsletter about issues and events pertaining to her father's legacy.
More about Jamie's multifaceted life can be found on her website: jamiebernstein.net.