Christopher Clark
Imogene Johnson Senior Scientist, Cornell University; and Senior Advisor, Planet OS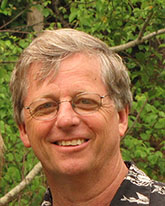 Christopher W. Clark, Ph.D., an engineer and biologist, is an unabashed scientific activist for the living world. When asked what he does, his answer is simply: "I listen to this singing planet!" Chris is a senior advisor at Planet OS, inspired by its technical brilliance and entrepreneurial spirit. He remains the Imogene Johnson senior scientist in the Bioacoustics Research Program at Cornell's Lab of Ornithology and the Department of Neurobiology & Behavior, and a subject matter expert for Marine Acoustics Inc.
Chris's research has concentrated on animal acoustic communication, with a particular interest in the application of advanced acoustic technologies for scientific conservation of endangered species, from tiny birds to forest elephants to great whales. He has pioneered the application of large-scale distributed listening systems for understanding the spatial-temporal-spectral dynamics of acoustic habitats and the ecological costs from human acoustic activities (commercial shipping, oil & gas exploration, sonars).
Chris and his research teams have pioneered a new, ecologically based paradigm for evaluating and measuring biological risks to species at individual, population, and ecological levels.