Jonathan Littman
Founder, Smartup.life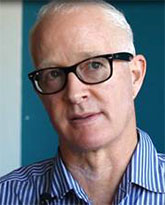 Jonathan Littman is the founder of SmartUp.life, The Innovation Hub, and the co-author of the international IDEO bestsellers The Art of Innovation and Ten Faces of Innovation.
Jonathan leads immersive seminars and delivers keynotes on entrepreneurship, startups, and innovation in the US, Europe, and China. An adjunct professor at the University of San Francisco, Jonathan teaches Creativity, Innovation, and Applied Design, an interactive approach to tapping anthropology and cross-pollination techniques to uncover unique insights and prototype new products and services.
Jonathan's nine books, four of which have been optioned for film, have covered such topics as computer hackers, technology, sports, and business. As a journalist, Jonathan has written for Forbes and the LA Times Magazine, and he was a contributing editor for Playboy.
Jonathan holds a BA in Rhetoric from the University of California at Berkeley. He is currently collaborating with SmartUp.life's Editor-in-Chief, Susanna Camp, on a book exploring trends in innovation and entrepreneurship.