Jeff Loucks
Executive Director, Technology, Media, and Telecommunications (TMT), Deloitte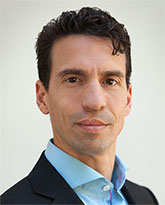 Jeff Loucks, PhD, is the executive director of Deloitte's Technology, Media, and Telecommunications (TMT) center. Through 15 years of research, writing, and consulting, Jeff has helped companies capitalize on technological change by transforming their business models.
Prior to joining Deloitte, Jeff was a director in Cisco's Digitization Office, helping to develop and articulate Cisco's digital strategy. As part of his role, he worked with senior leaders at Cisco's biggest customers to understand how digital disruptors threatened their businesses, and to formulate effective responses. He also spoke frequently at conferences and Cisco events.
Jeff co-founded the Global Center for Digital Business Transformation, a research partnership between the Institute for Management Development (IMD) and Cisco that explores the strategies and concrete steps companies must take to thrive in an era of digitization. Jeff is co-author of the award-winning book Digital Vortex, which shows how digital disruptors are attacking market leaders, and how established companies must change to compete and win.
Jeff's academic background complements his TMT expertise. He wrote his PhD dissertation on Machiavelli (one of the world's great strategists) and draws upon philosophy, psychology, and political science to understand both institutional and human responses to today's escalating challenges.
Jeff has a BA in Political Science from The Ohio State University, and an MA and PhD in Political Science from the University of Toronto. He lives in Columbus, Ohio, with his wife and two sons.