Ken Goldman
President, Hillspire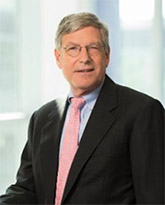 Ken Goldman is the current president of Hillspire, a family office, responsible for financial and administrative functions, along with real estate, aviation, and maritime activities.
Ken is the former chief financial officer of Yahoo!. He joined Yahoo! in 2012, and throughout his five-year tenure was responsible for Yahoo!'s global finance functions, including financial planning and analysis, controllership, tax, treasury, and investor relations. Prior to joining Yahoo! Ken served as senior vice president, finance and administration, and chief financial officer at Fortinet Inc., a provider of unified threat management solutions, from 2007 to 2012. Ken also served as senior vice president, finance and administration, and chief financial officer of Siebel Systems Inc.
During a professional career spanning over 40 years, Ken has served as CFO of multiple public and private companies, and as CFO has helped take three companies public. In addition, Ken's experience includes board director, audit committee chairman, and financial advisory roles at more than 40 corporate boards, of which over 10 have gone public while he was a board member. Ken also currently serves on the board of directors of NXP Semiconductor, Trinet, RingCentral, Zuora, GoPro Inc., and the SASB Foundation; and is the consulting CFO for Pattern Computer Inc. Ken also serves on other nonprofit boards such as the Lucile Packard Children's Hospital Foundation board and the RFK Human Rights board.
Ken was a member of the board of trustees of Cornell University from 2005 to 2013 and was subsequently designated as emeritus trustee; and is currently on the Harvard Business School California Research Center advisory board. Ken was appointed in January 2015 to a three-year term to the Public Company Accounting Oversight Board's (PCAOB's) standing advisory group (SAG), an organization that provides advice on the need to formulate new accounting standards or change existing standards. He was a member of the Treasury Advisory Committee on the Auditing Profession over the years 2007 and 2008, a public committee that made recommendations to encourage a more sustainable auditing profession. From December 1999 to December 2003, Ken served on the Financial Accounting Standards Advisory Council (FASAC). In 2017, the Jewish Heritage Commission of the United States presented the Kind David Award to Ken recognizing his contributions to American society and Jewish heritage as a leader of exceptional impact.
Ken holds a BS in Electrical Engineering from Cornell University and an MBA from the Harvard Business School. In his spare time, he enjoys skiing, windsurfing and kiteboarding, and golf. He resides in Atherton, California, with his wife and has three children who reside locally.