Scott Foster
Partner, TAP Japan; SNS Asia Editor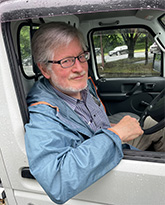 Scott Foster, a native of Oregon, is currently a partner and analyst at JA Research, an independent equity research company in Tokyo He serves as the SNS Asia editor and is the author of Stealth Japan (2016, FiReBooks). He previously worked for Lehman Brothers, Merrill Lynch, and other investment banks as a research analyst covering electronics, alternative energy, engineering, and other sectors in Japan and Korea. He first met Mark Anderson when he wandered up from the docks to visit the Whale Museum in Friday Harbor in 1979.
In 1975, Scott received a recording of Watazumido shakuhachi (Japanese bamboo flute); the following year he went to Japan to study the instrument. He found a job and is still there, and still playing shakuhachi. Over the years, he has studied shakuhachi with John Kaizan Neptune, Shin-ichiro Makihara, and Kawamura Taizan, and Korean taegum (bamboo flute) with Won Jang Hyun. He holds a Jun-Shihan (assistant instructor) license from the Tozan-ryu school of shakuhachi music.
Scott holds a BA from Stanford University (1976) and an MA from the Johns Hopkins University School of Advanced International Studies (1982).