Brian McInerney
Hydrologist, National Weather Service and E2MS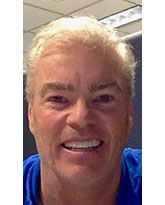 Brian McInerney has worked as a professional hydrologist for the National Weather Service for the past 28 years. He is currently involved in the science and forecasting of spring snowmelt runoff, flash flood, drought, post-wildfire debris flow forecasting, and the effects of climate change on mountain snowpacks. He holds an MS in Science from the University of Montana and an undergraduate degree from St. Mary's University, Minnesota, and completed one year of law school at Hamline University.
Brian is currently working as part of the Earth Energy Monitoring System (E2MS) to monitor and predict Earth's energy flows. An example of this includes the ability to forecast water supply volumes from spring snowmelt runoff and improve long-range weather forecasts. Both of these proof-of-concept ideas track Earth's energy flows and attempt to recognize patterns within those flows. Once those patterns are recognized, E2MS enables an improved predictive ability.
Brian hails from Chicago and currently resides in Park City, Utah.