Con Slobodchikoff
CEO, Zoolingua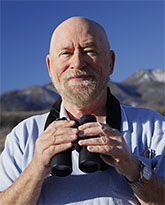 Con Slobodchikoff is CEO of Animal Communications Ltd, director of the Animal Language Institute, and author of Chasing Doctor Dolittle: Learning the Language of Animals. He is an expert at decoding animal language, using innovative experimental and analytical techniques. His work has shown that prairie dogs have a sophisticated animal language having all of the design features of human languages.
Con has been featured in a variety of news media articles and interviews, including magazines such as Smithsonian Magazine, National Geographic, Discover Magazine, People Magazine, Reader's Digest, and Boy's Life; radio interviews such as "Radiolab," NPR's "All Things Considered," and NPR Flagstaff, Phoenix, Santa Fe, Idaho, and Colorado; on television on NBC Dateline, ABC World News with Peter Jennings, CNN, Country Canada, Quantum (Australia), Tierzeit (Belgian-German TV), Turner Broadcasting, and Brixen Productions (Discovery Channel); and in newspapers such as the LA Times, Boston Globe, Denver Post, Arizona Republic, Arizona Daily Sun, Arizona Daily Star, Washington Post, and the New York Times. A joint production by BBC and Animal Planet did a one-hour documentary of his work, shown in 2010 by BBC TV in Europe and in 2011 on Animal Planet as part of the Mutual of Omaha Wild Kingdom series.
Con has written or co-written some 100 scientific papers and popular articles on animal language, animal behavior, and evolution. He has also edited three books on these topics.
Con also writes or co-writes several blogs, including the Reconnect with Nature Blog (www.reconnectwithnatureblog.com), the Dog Behavior Blog (www.dogbehaviorblog.com), and the Dr Con page on Facebook (www.facebook.com/doctor.con). His website is (www.conslobodchikoff.com).
Con has a BS degree and a Ph.D. degree from the University of California, Berkeley.