Eliza McNitt
Writer & Director, SPHERES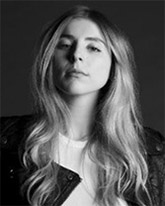 Eliza McNitt is a writer and director. She explores the cosmic collision of science and art. From astronauts to astrophysicists, Eliza works alongside scientists to tell stories about the human connection to the cosmos. Her films and VR experiences have premiered at festivals including Sundance, SXSW, Hot Docs, Cannes NEXT, AFI Fest, and Tribeca.
Eliza is a two-time Intel Science Fair winner, a OneFifty creator, and Alfred P. Sloan grant recipient. She is the creator of Fistful of Stars, a VR experience following the journey of the Hubble telescope through the cosmos, which drew an audience of over 6,000 people at BRIC! Celebrate Brooklyn.
Eliza's upcoming VR series Spheres, executive-produced by Darren Aronofsky and Ari Handel, is an episodic journey through the songs of spacetime, starring Jessica Chastain and Patti Smith as the voice of the cosmos. Spheres made history at the Sundance Film Festival as the world's first-ever major acquisition of a VR experience in a landmark seven-figure deal. major sale of Virtual Reality in a landmark seven figure deal.
Eliza's work has appeared at festivals including Sundance, SXSW, Tribeca, Cannes Next, and the Venice Film Festival. Spheres was the recipient of the Grand Prize in Virtual Reality at this year's Venice Film Festival and will be released in late fall 2018.