Paul Gouin
Director, Anti Whaling Society Inc.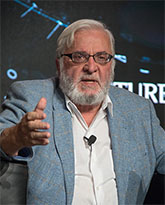 Paul Gouin is an alumnus of the HEC School of Business in Paris, France. His first startup immediately after graduating was a small marina in Tortola, British Virgin Islands. His latest startup is Venice Bay, a waterfront gated community in New Providence, Bahamas. He is also planning a new startup promoting his LUX Method, a more effective way to teach mathematics to preschoolers, because early math skills are the best predictor of future academic success.
Early in his career, Paul bought the Dolphin Research Center - a facility in the Florida Keys where the dolphins used in the television series Flipper had been trained. He instituted a series of training routines in which dolphins learned to communicate with a simple syntax containing a subject, a verb, and an object - the same basic results were later obtained by Dr. Louis Herman and his students in Hawaii. Paul also published scientific papers, including one on the comparative anatomy of whale brains. He also has participated in a whale research expedition with Ocean Alliance on the research vessel Siben.
In addition to his business ventures, Gouin has invested significant time and money to bring an end to whaling.
He initiated efforts that resulted in an end to whaling in Australia.
As the commissioner from Panama to the International Whaling Commission (IWC) from 1979 to 1982, he played a pivotal role in the vote for a moratorium on open-ocean whaling in 1981 and later helped pass the general moratorium in 1982. He also helped persuade France to propose the South Atlantic Whale Sanctuary. His present project is an attempt to persuade two IWC member nations to propose an ethical ban on commercial whaling based inter alia on some recent scientific discoveries documenting the extraordinary complexity of cetacean neuroanatomy. The bylaws of the IWC stipulate that whenever two member nations make a proposal, the full IWC membership must vote on it. Important proposals such as a moratorium or a ban require a 3/4 majority.
Paul has visited 80+ countries since his first solo trip on a moped when 15 years old through Lebanon, Turkey, Syria, Jordan, and Israel. He has backpacked off the beaten tracks all over South America, along the isthmus of Darien in Panama, in the Guajira peninsula, and twice across the Sierra Madre de Santa Marta. He has dived with whales on Silver Bank (Dominican Republic), around Gorgona Island (Colombia), and in the Galapagos (Ecuador). He is recently back from swimming with sperm whales off Dominica.