Valeriy Chaly
, Ambassador Extraordinary and Plenipotentiary of Ukraine to the USA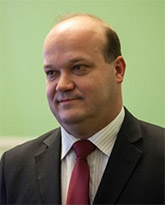 Valeriy Chaly assumed his duties as Ambassador Extraordinary and Plenipotentiary of Ukraine to the USA in July 2015, expanding his diplomatic mission as Ambassador Extraordinary and Plenipotentiary to Antigua and Barbuda (since November 2015) and to the Republic of Trinidad and Tobago, with residence in the US (since April 2016) and Permanent Observer to the Organizations of American States.
From June 2014 to July 2015, Valeriy Chaly worked as Deputy Head of the Administration of the President of Ukraine following his foreign policy advisory to Mr. Poroshenko during his presidential campaign.
In 2006 to 2009 and 2010 to 2014, Valeriy Chaly worked as Deputy Director General of a leading Ukrainian think tank - Razumkov Centre - where he supervised foreign policy, international law, and security programs. During the course of his NGO career, Mr. Chaly developed a significant expertise gaining a wide recognition in Ukraine and internationally.
In November 2009, Valeriy Chaly worked as Deputy Minister for Foreign Affairs of Ukraine and resigned in April 2010 in protest against the foreign and security policy pursued by then President Victor Yanukovych. Following his resignation, Mr. Chaly resumed his work at the Razumkov Centre and advised the Foreign Relations Committee of Verkhovna Rada (Parliament) of Ukraine.
Valeriy Chaly's earlier public-sector career also included service as Assistant to the Deputy Secretary of Ukraine's National Security and Defense Council (1997-1999) and Senior Consultant at the Assistants' Group to the President of Ukraine (1995).
In 1995, he graduated with postgraduate degree in International Law from the Institute of International Relations, National Taras Shevchenko University, Kyiv; and in 1992 from Vinnytsia State Pedagogical University, Department of History.