Helen Greiner
Co-founder and Chairman of the Board, iRobot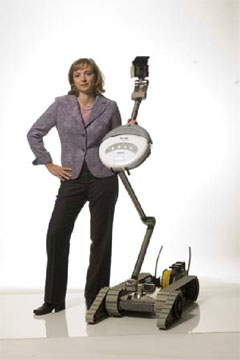 In the early days of iRobot Corp. (Nasdaq: IRBT), co-founder and chairman of the board Helen Greiner envisioned robots as the basis for an entirely new class of products that would improve life by taking on dangerous and undesirable tasks. Helen's vision has been brought to life by products such as the iRobot Roomba™ Vacuuming Robot, which has sold more than 2 million units to consumers throughout the world, and the iRobot PackBot™ Tactical Mobile Robot, which is helping to save soldiers' lives in Iraq and Afghanistan.
Helen's forward-looking instincts and leadership have led the company to become a world leader in the robot industry. In 2005, she led the company through its initial public offering. She also guided iRobot's early strategic corporate growth initiatives by securing $35 million in venture funding to finance iRobot's expansion in the consumer and military categories. In addition, Helen created iRobot's Government & Industrial Robots division - starting with government research funding leading to the first deployment of robots in combat in Operation Enduring Freedom. Currently, the division is shipping iRobot PackBot robots for improvised explosive device (IED) disposal in Iraq. Helen focused the company on winning into the U.S. Army's groundbreaking Future Combat Systems Program, where they have a $51.4M development contract for Small Unmanned Ground Vehicle (SUGV). In part because of the success of these initiatives, Helen has helped enhance public acceptance of robots as one of today's most important emerging technology categories.
Helen's nearly 20 years in robot innovation and commercialization includes work at NASA's Jet Propulsion Lab and MIT's Artificial Intelligence Lab, where she met Colin Angle and Rodney Brooks. Before founding iRobot in 1990, Helen founded California Cybernetics, a company focused on commercializing NASA Jet Propulsion Lab technology and performing government-sponsored research in robotics.
Helen is highly decorated for her visionary contributions in technology innovation and business leadership. She was named by the Kennedy School at Harvard in conjunction with US News and World Report as one of America's Best Leaders and was recently honored with the Pioneer Award from the Association for Unmanned Vehicle Systems International (AUVSI) in appreciation for her work in military robotics.
Helen has been honored by the World Economic Forum as both a Global Leader for Tomorrow and a Young Global Leader. In 2005, Good Housekeeping Magazine named her "Entrepreneur of the Year," and Accenture honored her as "Small Business Icon" in its Government Women Leadership Awards. In 2003, Helen was recognized by Fortune Magazine as one of its "Top 10 Innovators of 2003" and named the Ernst and Young New England "Entrepreneur of the Year" with co-founder Colin Angle. Helen won the prestigious "DEMO God" award at the DEMO 2000 Conference. In 1999, she was named an "Innovator for the Next Century" by Technology Review Magazine.
Helen has appeared on National Public Radio, CNN, and Scientific American Frontiers, and she is often quoted as an expert resource in the press. She is a frequent speaker at industry events such as RoboBusiness, PUSH, and the O'Reilly Conference on Technology. She sits on the Computer Science Advisory Board of Worcester Polytechnic Institute (Worcester, Massachusetts), is a trustee of the Museum of Science, Boston, and is on the board of directors of the NDIA (National Defense Industrial Association).
Helen holds a bachelor's degree in Mechanical Engineering and a master's degree in Computer Science, both from MIT.