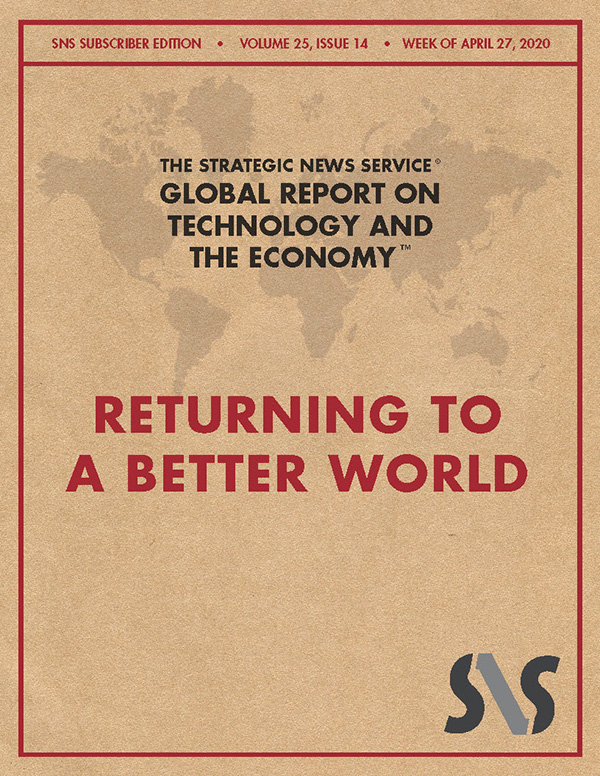 SNS Subscriber Edition • Volume 25, Issue 14 • Week of April 27, 2020


THE STRATEGIC NEWS SERVICE

©


GLOBAL REPORT ON
TECHNOLOGY AND
THE ECONOMY

™


RETURNING TO
A BETTER WORLD

In This Issue
Vol. 25 Issue 14

RETURNING TO A
BETTER WORLD

By Berit Anderson



Publisher's Note: The current COVID-19 crisis provides multiple opportunities to do important and optimistic things, many of which might not have been possible before. The core of these opportunities arises from a time of forced, but perhaps much needed, introspection, at every level - country, company, individual. Specifically, at times prior to and during this crisis, the world and its citizens have been surrounded by an atmosphere of increasing concern, if not dread, regarding the future.

For that reason, the promise of a partial return to the way things were is, at best, uninspiring and, at worst, actively feared. Such public messaging will not inspire communities and organizations around the world to undertake the collaborative action necessary to drive meaningful global response.

Conversely, the shutdown offers a new base from which to move toward a more inspiring future. Around the world, there are hundreds of thousands of organizations working to respond to this global pandemic, each with its own expertise, programs, and ideas regarding what this should include.

We think the world, its politicians, its companies, and its citizens are not only ready for such an effort, but are also hungry for it. - mra

__________

...