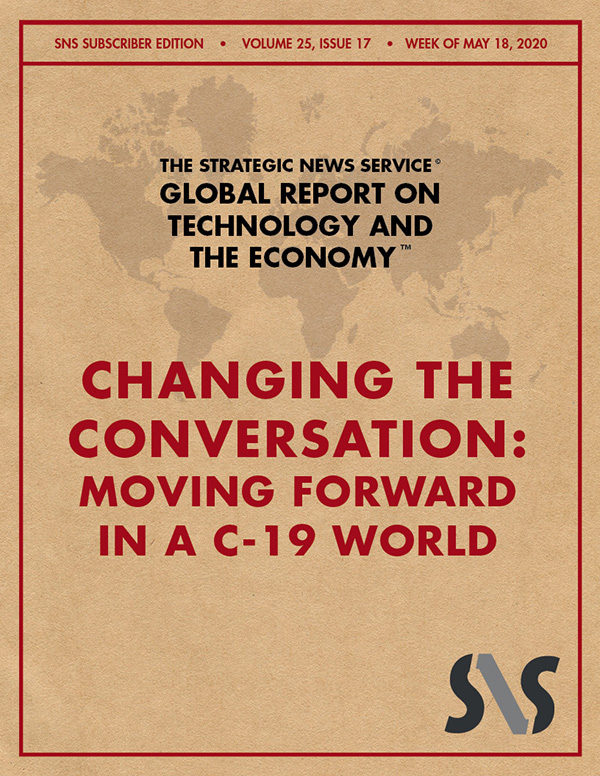 SNS Subscriber Edition • Volume 25, Issue 17 • Week of May 18, 2020


THE STRATEGIC NEWS SERVICE

©


GLOBAL REPORT ON
TECHNOLOGY AND
THE ECONOMY

™




CHANGING THE CONVERSATION:


MOVING FORWARD
IN A C-19 WORLD

In This Issue
Vol. 25 Issue 17

Changing the Conversation:
Moving forward in a c-19 world

By Mark Anderson

A past serial speaker at FiRe, Dr. Larry Brilliant is perhaps the foremost global expert on pandemics (leading the successful eradication of smallpox in India was just the start), and today is also CNN's go-to guest on COVID-19. He founded the Seva Foundation, served as the head of Google's and the Skoll Foundation's philanthropic branches, took home the X-Prize, was the only non-native invited onto Alcatraz (to deliver a baby), and was Jerry Garcia's personal physician. Yes, he's interesting. Also mindful, and funny.

We're thrilled to have him with us to discussing the biggest question of the day, which relates to this week's issue: COVID-19: The Way Out. Sign up to join usin Zoomland this Thursday at 2:30 PT / 5:30 ET, for his interview with Evan Anderson, INVNT/IP CEO and author of the SNS "Viral Economy" Series. Following will be a Q&A with your questions, and randomized breakouts for those who'd like to linger and discuss. - Sally Anderson, Editor-in-Chief

________

There you were, carefree and minding your own business while strolling through a minefield, when suddenly you heard a "click."

As far as I can ascertain, this pretty much describes every aspect of the COVID-19 crisis to date, from personal risk and deaths to government policies around the world.

From the perspective of both doctors and political leaders, the advice until now has been simple: Don't lift up your foot.

But there are problems with that advice, after a while.

In this week's discussion, we'll skip all of the politics (knew you'd like that one) and challenge the black / white Lockdown / Open-up choices being bandied about everywhere. Why? Because they suffer from basic failures in logic, and in our growing knowledge about C-19 transmission history.

Instead, the point of this issue will be to recommend what might be called a "third way" for society to consider how to move forward, with the basic shared goals of a) not dying; and b) continuing to live - which means, for almost everyone, to work.

...