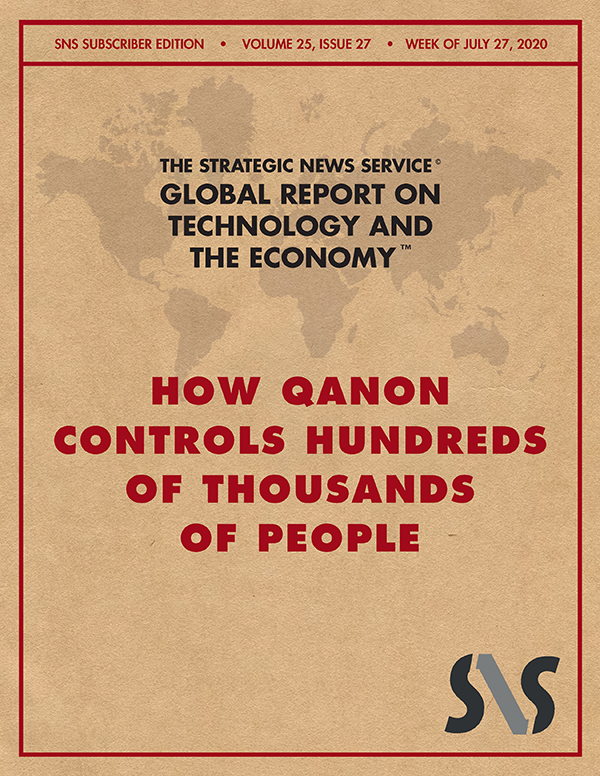 Strategic News Service, the first paid subscription newsletter on the internet, was started 25 years ago. In honor of our 25th birthday, we have hosted a month of conversations, galleries, a contest, and soon a free, closing members' celebration (see "SNS Events") to carry us into the next 25 years.

But first, don't miss this month's extraordinary FiReSide event - "Breakthrough Medicine: Booting-Up 21st Century Healthcare" - tomorrow, Thursday, at 2:30-4:30 PT / 5:30-7:30 ET. Otonexus CEO Caitlin Cameron will open the event with a brief talk on "Leveraging Innovation to Change the Healthcare Landscape." Then our keynote guests will be the world's top two experts in using genetics in the improvement of healthcare, with J. Craig Venter interviewed by David Ewing Duncan on "Preventative Medicine," and Mark Anderson interviewing Lee Hood on "Transforming 21st Century Medicine." Details and registration are linked above; related SNS gallery links are in "SNS Events."

In This Issue
Vol. 25 Issue 27

HOW QANON CONTROLS HUNDREDS OF THOUSANDS OF PEOPLE

HOW QANON CONTROLS HUNDREDS OF THOUSANDS
OF PEOPLE

Information warfare and the future of polling

by Berit Anderson

A month or so ago, something happened that caught my attention. It was a simple thing - a Facebook video of two surfers trying to hand out free masks on California's Venice Beach.

But in this case, the passersby being offered free masks didn't just provide a varying range of opinions about masks; they didn't just decline them. No; instead, they became visibly furious. One man even came after the surfers, threatening a physical fight.

The irrationality of this furor is what caught me. What's more, the same level of fury continued to show up in other videos of non-mask wearers exploding in stores around the country when faced with the prospect of masking up.

Now, you could just dismiss all of these mask naysayers as irrational jerks and move on. But in my experience, this level of fury is often a sign that information warfare is at play. That the individuals in question have been primed with an underlying story specifically tied to what would normally be considered a mundane object. In this case, a medical mask.

To those who don't yet know the underlying story, the response appears completely irrational.

But once you begin to understand the story behind the fury, and you take a moment to absorb the fact that people actually believe that story, it suddenly seems not just understandable, but entirely rational.

So let's take a minute to understand the story behind these mask reactions:

...