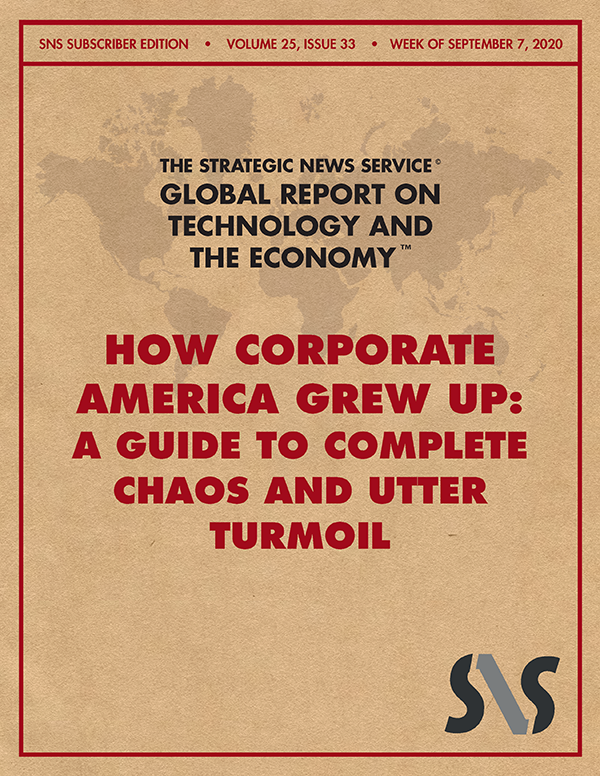 Strategic News Service, the first paid subscription newsletter on the internet, was started 25 years ago.

In honor of our 25th birthday, we're launching FiRe HQ, a new SNS community platform; hosting a monthly virtual FiReSide Event, where members may meet in intimate conversation with global experts and interact with one another; and generally continuing a yearlong celebration to carry us into the next 25 years.

The SNS Apparel Shop is officially open for business! And happens to be offering a sitewide 30% discount. There are dozens of items to peruse, all elegantly embroidered with the SNS logo. You asked for it, and now you have it.

In This Issue
Vol. 25 Issue 33

HOW CORPORATE AMERICA GREW UP

HOW CORPORATE AMERICA GREW UP: A Guide to Complete Chaos and Utter Turmoil

by Berit Anderson

Social and political turmoil are solidifying a new reality for 2020 America: competition and economics have for a long time acted as the most stringent, and most effective, regulators of corporate behavior. But political machinations in Washington have created a new environment in which corporations are increasingly taking a more proactive, sometimes socially mature, approach to shaping American society.

The Big 5 - Microsoft, Amazon, Apple, Alphabet, and Facebook - stand to benefit the most from this shift, given their massive infrastructures of data and services and their ability to pick and choose their preferred regulatory environments and public services as they serve the companies' PR needs.

What do I mean by this?

A few examples:

...