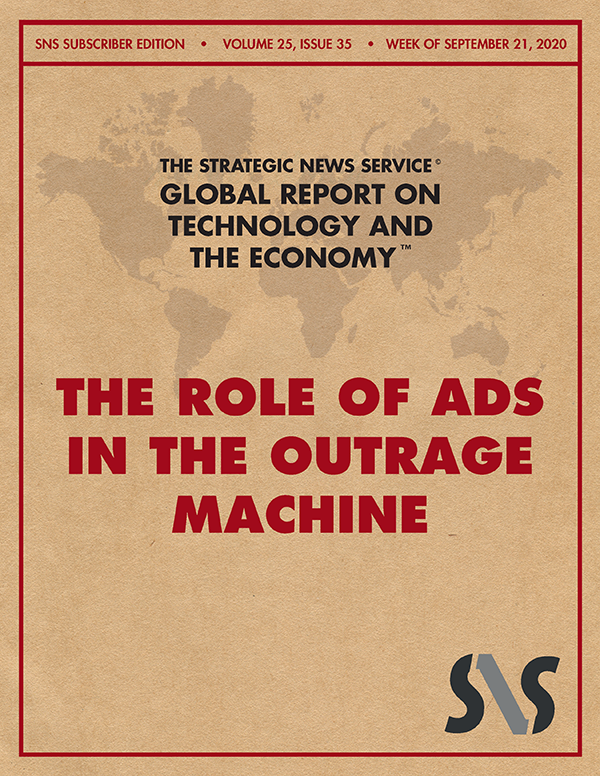 Strategic News Service, the first paid subscription newsletter on the internet, was started 25 years ago.

In honor of our 25th birthday, we've just launched FiRe HQ, a new SNS community platform, and the SNS Apparel Shop. We're also hosting monthly virtual FiReSide events, where members may meet in intimate conversation with global experts and interact with one another; and generally continuing a yearlong celebration to carry us into the next 25 years. September details below.

Confused about QAnon?

Join our next virtual FiReSide with Molly McKew ("QAnon: Driving Us Crazy by Design?") and Aiofe Gallagher ("The ABCs of QAnon") - plus, appropriately, Q&As

with your questions, and 2 closing breakouts for small-group conversations.

In This Issue
Vol. 25 Issue 35

THE ROLE OF ADS IN THE OUTRAGE MACHINE

THE ROLE OF ADS IN THE OUTRAGE MACHINE

by Mark Anderson

I could make the argument that the basic technology of AI - if, by that, one means neural nets - segments and divides society. But I'm not going to do that today, so just hold on to that thought.

In this week's discussion, I'm going after a related and even more insidious idea: that advertising (which uses AI), which you would think would be designed to be attractive to you, actually is bad for you, perhaps is even making you ill.

And, most surprising and more important, instead of the expected goal of pleasing you, it often makes you very, very angry.

What went wrong?

...