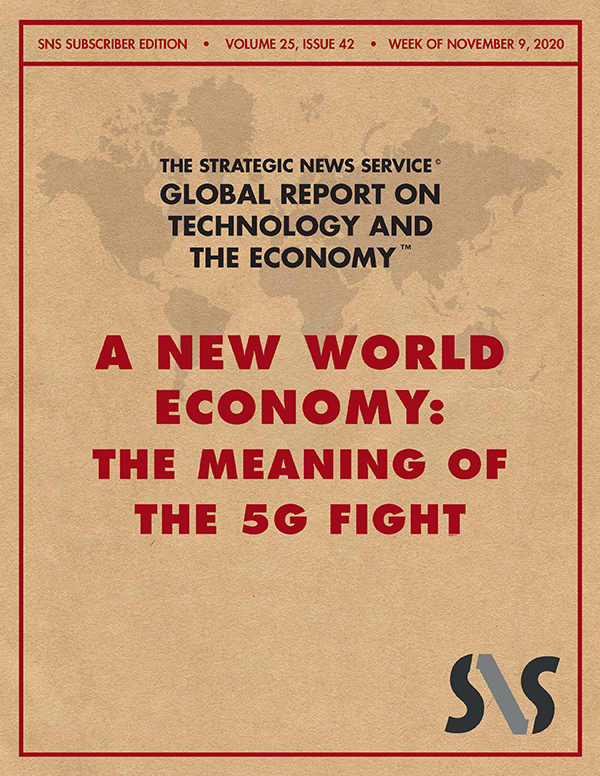 Strategic News Service, the first paid subscription newsletter on the internet, was started 25 years ago.

SAVE the date

- Free for SNS Members -

In This Issue
Vol. 25 Issue 42

A NEW WORLD ECONOMY: THE MEANING OF THE 5G FIGHT

A NEW WORLD ECONOMY: THE MEANING OF THE 5G FIGHT

by Mark Anderson


Changed Utterly

If the poet William Butler Yeats were writing this week's issue, he'd say that the world's economy has "changed, changed utterly." (See "Quotes of the Week.") And there is no better lens through which to view and understand this change than the global battle for money coming from the deployment of 5G wireless communications.

In a week that saw the long-awaited resolution of the US presidential election (one of the most divisive - and, generally, peaceful - in its history), there are larger forces at work that have been at best sidelined, if not ignored completely.

For example, Sweden just rejected Huawei in its 5G networks, and ultimately in all of its communications backbone.

What is the meaning and import of this relatively quiet event? The whole world economy has changed, and changed utterly, almost overnight, and no one really noticed.

Yeats would then conclude: "A terrible beauty is born."



...