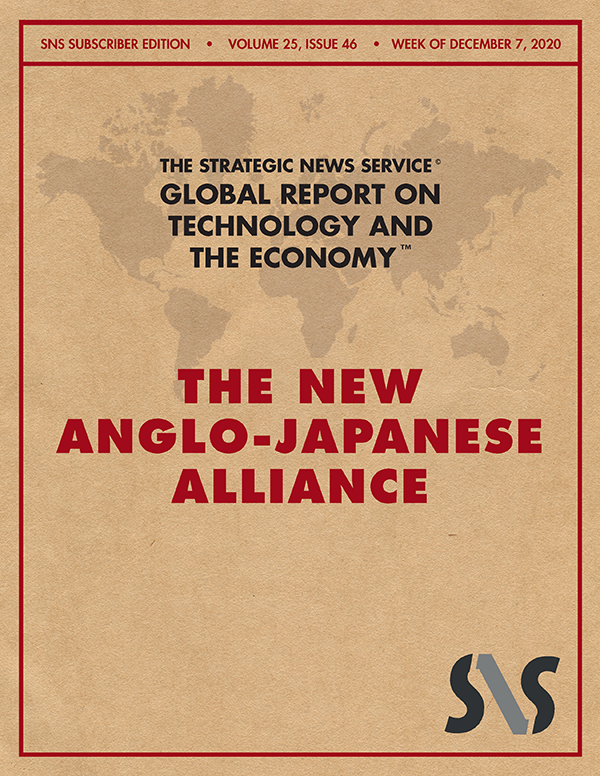 In This Issue
Vol. 25 Issue 46

THE NEW ANGLO-JAPANESE ALLIANCE

SNS: Asia Letter, Q1 2021

THE NEW ANGLO-JAPANESE ALLIANCE

By Scott Foster

Quotes

"I look forward to making progress on a bilateral trade agreement with the United States, our second-largest trading partner and most important security ally. Such an agreement would further enhance our close economic and trade partnership, and also reinforce America's support for Taiwan in the face of unrelenting intimidation from across the Strait."

- Taiwan President Tsai Ing-wen
(Reuters, 12/4/20)

"With Huawei's help, we expect to bring the level of our human resources up to international standards."

- Unidentified source "close to the Indonesian presidential office"
(Nikkei Asia, 12/2/20)

"RCEP may force the West to do some homework and understand that the main story here is not that RCEP 'excludes the US' or that it's 'designed by China.' RCEP is an East Asia-wide agreement, initiated by ASEAN and debated since 2012 among equals including Japan, which for all practical purposes positions itself as part of the industrialized Global North. It's the first-ever trade deal that unites Asian powerhouses China, Japan and South Korea."

- Brazilian journalist Pepe Escobar, "RCEP set to supercharge
the New Silk Roads" (Asia Times, 11/16/20)

"For the Japanese automotive industry, which operates on a global scale, the RCEP agreement systematically supports the creation of an advanced value chain in the Asia-Pacific region."

- Toyota Motor President Toyoda Akio (Nikkei Asia, 11/15/20)

...