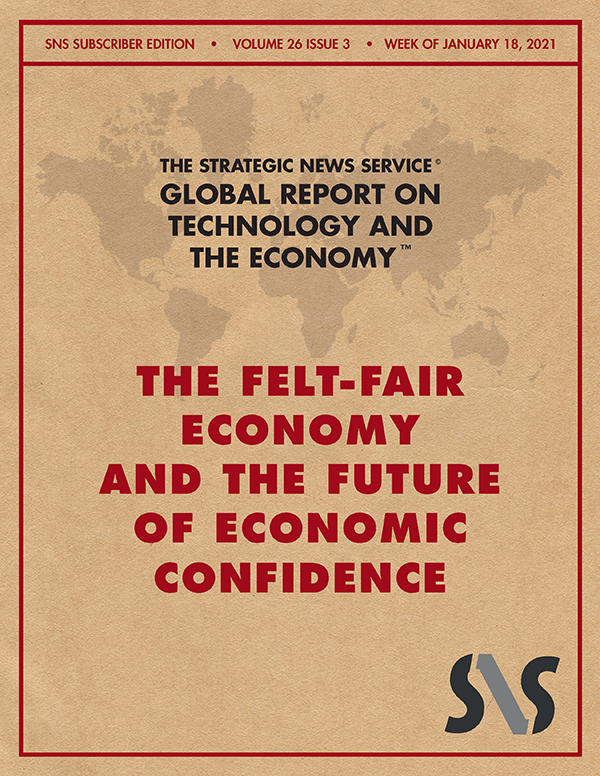 Strategic News Service, the first paid subscription newsletter on the internet, was started 25 years ago.

Registration Is Open | Free To SNS Members*

*Click Here to view the member code

SNS: Special Letter

THE FELT-FAIR ECONOMY AND THE FUTURE OF ECONOMIC CONFIDENCE

By Art Kleiner

_____

Publisher's Note: One of the most pressing social problems in the world today has to do with income inequality and the social disruptions and societal risks attendant with the loss of a middle class. Today, in one form or another, we see this issue replicated and represented explicitly on the left, or implicitly on the right, and often merged with the related issues of race, religion, geographical origin, and/or poverty.

While science has taken a horrible beating in the US under the current administration, so has the whole concept of meritocracy - of being paid or promoted based on merit. All of this, depending on one's politics, is loaded with code words, and baggage from online echo chambers. How can science be bad? How can merit be bad? Well, if you don't understand it, or don't feel that others see it in you, there's a start.

In this week's issue, longtime member Art Kleiner does a deep dive on a new way of understanding the connections between pay, personal satisfaction, and social equity, in the hope that his conclusions might lead us out of the current downward spiral of conflict and greed. Ranging in his search from Piketty to Newland, he helps provide a clear view of how to avoid past logic traps and the pressures that can lead to civil war or revolution, if not addressed systematically. The questions raised and answered here are more than timely; they address an existential threat to modern social progress. - mra

...