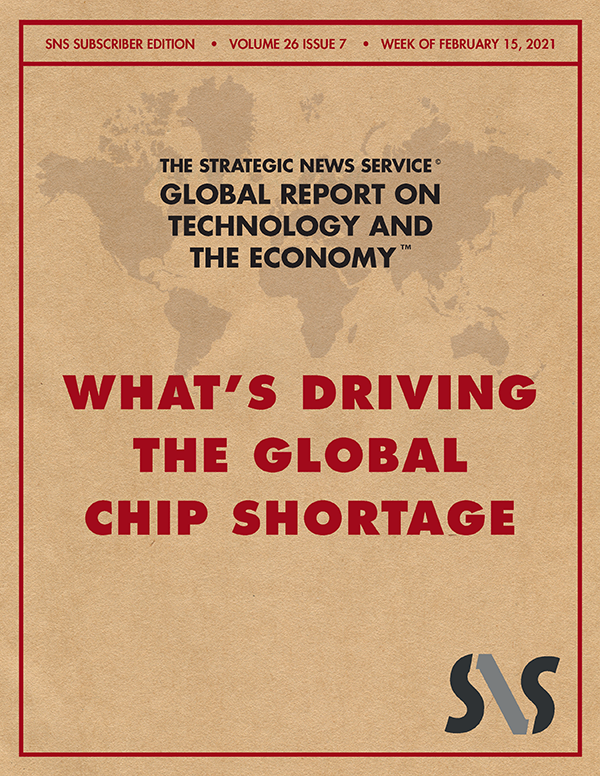 Strategic News Service, the first paid subscription newsletter on the internet, was started 25 years ago.

Registration Is Open | Free To SNS Members*

NOTE: This February FiReSide event will start later than usual.

*Click Here to view the member code

In This Issue
Vol. 26 Issue 7

WHAT'S DRIVING THE GLOBAL CHIP SHORTAGE

WHAT'S DRIVING THE GLOBAL CHIP SHORTAGE

Huawei chip hoarding has created a global shortage that likely left automakers in the lurch.

By Berit Anderson

Carmakers are raising a ruckus. Just as demand for autos was beginning to pick up again, global automakers like Ford, Fiat-Chrysler, Toyota, Subaru, Volkswagen, and Nissan have been forced to slam on the brakes, laying off autoworkers and shuttering factories.

The problem: There aren't enough chips to supply the auto industry. There's a global shortage.

The reason for this shortage depends on who you ask. Most media reports would have you believe it's the result of the pandemic. Grumbling automakers blame poor planning by auto parts suppliers, which are responsible for preordering chips and integrating them into parts to fulfill automakers' orders.

...